US Curriculum
1 on 1 Online Classes for all US Curriculum Subjects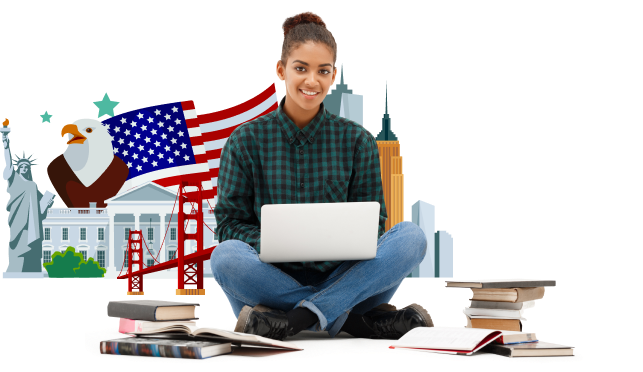 US Curriculum
TutorComp offers you the ultimate US Curriculum Online tutoring services. Our goal is simple. To make your child the best in class. Our expert tutors are ever ready to support students to achieve the student's academic needs, whether it is to be a topper in class or score better grades than last time. Just let us know what are your requirements and your subject of interest and the rest will be taken care of by us. Our in-depth knowledge of the US Curriculum helps us to provide your child with the right kind of learning experience you can ask for. Tutors will continuously monitor the progress so that you don't miss out on anything.
Subjects
Biology
Physics
Chemistry
General Science
(Lower Grades)
Math
Social Science
Sociology
Humanities
Economics
Environmental Studies
Political Science
Psychology
French
English
Spanish
We will support you in your academic endeavours
US Curriculum
Biology
Physics
Chemistry
General Science (Lower grades)
Math
Social Science
Sociology
Humanities
Economics
Environmental Studies
Political Science
Psychology
French
English
Spanish
Canadian Curriculum
Biology
Enviromnmental Studies
Political Science
Chemistry
Geography
Psychology
Computer Science
History
Science & Technology
Economics
Mathematics
Social Studies
English
Physics
Sociology
International Baccalaureate (IB)
IB DP
Biology
Business & Management
Chemistry
Computer Science
Design & Technology
Economics
Geography
History
Language & Literature
Mathematics
Physics
Psychology
Visual Art
IB MYP
Biology
Chemistry
Earth Sciences
Environmental Sciences
Individuals & Societies
Language & Literature
Life Sciences
Mathematics
Physics
Visual Art
IB PYP
Languages
Mathematics
Science & Technology
Social Studies
CBSE/ICSE/ISC
Accountancy
Biology
Business Studies
Chemistry
Computer Science
Economics
English
Environmental Studies
General Science (Lower Grades)
Geography
Hindi
Malayalam
Mathematics
Physics
Political Science
Psychology
Sanskrit
Social Studies
Sociology
Australian Curriculum
English
Math
Science
Physics
Chemistry
Biology
Geography
Computer/IT Courses
C++
Java
Graphic Design
Web Development
Game Development
Mobile App Development
GCSE/GCE A
Art & Design
Biology (Single Science)
Business
Chemistry (Single Science)
Combined Science
Computer Science
Design & Technology
Economics
English
Geography
History
ICT
Language & Literature
Maths
Physics (Single Science)
Psychology
Sociology
SABIS
Test Preparation
SAT Level 1
SAT Level 2
ISAT
KCET
KEAM
ACT
IELTS
AP Test Prep
PSAT
NJ ASK
NEET
NEET MDS
JEE
TerraNova
TOEFL
NAPLAN
IGCSE/AS/A Levels – CIE & Edexcel
Mathematics
English
Physics
Chemistry
Biology
Art & Design
Computer Science
Design & Technology
Economics
Language & Literature
Environmental Management
Food & Nutrition
Geography
History
ICT
General Science
Sociology
Travel & Tourism
Accounting
Business Studies
Language Training
English
Spanish
German
Italian
Arabic
Sanskrit
French
Hindi
About Us
Curriculum
FAQ
Blog
Careers
Privacy Policy
Contact Us
Become a Tutor
Copyright © 2023-2024 TutorComp.
All Rights Reserved