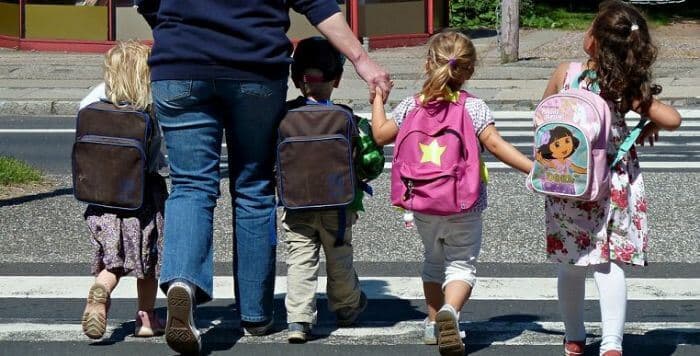 10 Proven Techniques to Kickstart an awesome School Year
It's 'Back to School Time'! Ring a bell? Are you racking your brains already on how your new school year would be? Relax! It's just a matter of how you make the plan. The school year can be fun and even exciting if you draw a perfect map to organize your day-to-day activities. Whether you are a spontaneous person or not, it's always best to foresee your plans and act accordingly. Always remember. One school year is another stepping stone to your successful career. Scroll down and have a look at some of the best tips to boost up your new school year.
1) Embrace the word Organized
Do you know? Your rate of success in studies is directly proportional to how organized you are! You don't necessarily need to be the brightest kid in your class, but if you have a 'well thought out map to steer your school year; you will be the most successful student among your peers. Period. The first step is to get adequate Binders and folders. Keep a record of your assignments and home works. Mark it off when done. Make sure to have all supplies you need for school and while studying at home to be kept separately. You can combine 3 or 4 major subjects in one notebook. This will help you to reduce the overload. Always remember to clean your folders after work is done.
2) Know your Syllabi
How well do you know your syllabi? What all subjects are you taking this year? Know them. Do an analysis. Talk with your seniors; they will be able to give a proper perspective from a student's angle. Understand which subjects may be challenging for you. Don't be shy to be a know-all! It gives you an extra edge among your peers.
3) Know Your Teacher
It's always best to know who is your teacher for some particular subjects, especially the challenging ones. Connect with them. Talk! It can help you big time when the school year begins. It also shows how committed you are and the teacher would be encouraged to help you out in the time of your academic hurdles.
4) Lend Your Ears and Take Notes
Your teacher is the gateway to your knowledge and it's beyond what's written in your textbook. So Listen! You will have a lot more to learn every day from them. Take Notes. Come up with your method to shorten the notes so that you can easily memorize them. Don't forget to highlight the important points.
5) Gather Study Groups
Of course! They say friends happen to you. But you can always choose the right ones! Make sure to form study groups and regularly spend a couple of study hours with them. It's room for more ideas and you will discover your potential at a new level. Have fun, and more importantly learn more!
6) Go Offbeat
Find time for some activity classes! Join clubs whether it is music, sports, or art. At the end of the day, you should always find time to do what you love, your passion. This should go in parallel with your regular academic schedule.
7) Visit Your School Library Daily
Read, Read and Read! Do not restrain your knowledge to the four walls of your classroom. Gain as much knowledge as books can provide you! This will improve your vocabulary every single day passing by. Note down the words which struck you the most. Use it while writing.
8) Set a Bar for Yourself
You should always enjoy setting deadlines for your tasks. This will help you prioritize your works more effectively. Think about the rewards you will achieve by doing so! This will push you furthermore to work hard. Deadlines are the perfect way to end unwanted procrastination!
9) Seek out Your Perfect Tutor
Don't hesitate to have a backup plan! You might not always be able to keep up with your teacher, and might lose track of your studies at times. Get a good tutor who will help you gain extra mileage in your academic career. Online tutoring is a good option when you feel you need some help with your homework right then. You will feel more confident and prepared for the next day!
10) Sleep Well
Heard it a million times? But it's true! In between all the hustles and bustles of studies and club activities make sure you sleep at the proper time. Give it a rest and prepare your body and mind for the exciting day coming ahead. Wake up like sunshine!
Unlock Your
Academic Potential
Get Started with Personalized Online Tutoring!
Latest Blogs
Toothpaste – Do You Know How They Work?
How online tutoring makes learning Physics more engaging?
Four Most common mistake students do during exams
How does online tutoring help students with learning disabilities?
How to track student's progress?
Top 4 Versions of Online Tutoring
We will support you in your academic endeavours
US Curriculum
Biology
Physics
Chemistry
General Science (Lower grades)
Math
Social Science
Sociology
Humanities
Economics
Environmental Studies
Political Science
Psychology
French
English
Spanish
Canadian Curriculum
Biology
Enviromnmental Studies
Political Science
Chemistry
Geography
Psychology
Computer Science
History
Science & Technology
Economics
Mathematics
Social Studies
English
Physics
Sociology
International Baccalaureate (IB)
IB DP
Biology
Business & Management
Chemistry
Computer Science
Design & Technology
Economics
Geography
History
Language & Literature
Mathematics
Physics
Psychology
Visual Art
IB MYP
Biology
Chemistry
Earth Sciences
Environmental Sciences
Individuals & Societies
Language & Literature
Life Sciences
Mathematics
Physics
Visual Art
IB PYP
Languages
Mathematics
Science & Technology
Social Studies
CBSE/ICSE/ISC
Accountancy
Biology
Business Studies
Chemistry
Computer Science
Economics
English
Environmental Studies
General Science (Lower Grades)
Geography
Hindi
Malayalam
Mathematics
Physics
Political Science
Psychology
Sanskrit
Social Studies
Sociology
Australian Curriculum
English
Math
Science
Physics
Chemistry
Biology
Geography
Computer/IT Courses
C++
Java
Graphic Design
Web Development
Game Development
Mobile App Development
GCSE/GCE A
Art & Design
Biology (Single Science)
Business
Chemistry (Single Science)
Combined Science
Computer Science
Design & Technology
Economics
English
Geography
History
ICT
Language & Literature
Maths
Physics (Single Science)
Psychology
Sociology
SABIS
Test Preparation
SAT Level 1
SAT Level 2
ISAT
KCET
KEAM
ACT
IELTS
AP Test Prep
PSAT
NJ ASK
NEET
NEET MDS
JEE
TerraNova
TOEFL
NAPLAN
IGCSE/AS/A Levels – CIE & Edexcel
Mathematics
English
Physics
Chemistry
Biology
Art & Design
Computer Science
Design & Technology
Economics
Language & Literature
Environmental Management
Food & Nutrition
Geography
History
ICT
General Science
Sociology
Travel & Tourism
Accounting
Business Studies
Language Training
English
Spanish
German
Italian
Arabic
Sanskrit
French
Hindi
About Us
Curriculum
FAQ
Blog
Careers
Privacy Policy
Contact Us
Become a Tutor
Copyright © 2023-2024 TutorComp.
All Rights Reserved