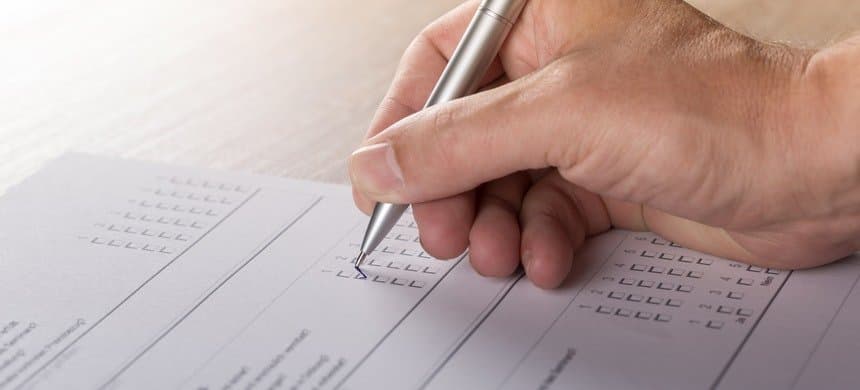 Four Most common mistake students do during exams
There are few common mistakes that students do during their examinations due to which, despite preparing well for exams, they lose marks and end up scoring low.
Let us look at a few of such mistakes and understand how to correct them:
Arriving late for the examinations
Most of the students are very punctual on exam days. Though, some exhibit the habit of being late almost for every occasion. This delay might mean that you may not be allowed to appear for the exam. Even in case you are permitted, your mind wouldn't be calm enough to start writing your paper immediately. It is hence advisable that you should reach the exam hall well in advance so that you don't miss out on those precious minutes.
Beginning your paper with the toughest question
Most of the students start their papers on hearing the bell. They don't even glance through the whole question paper once. It means that they might start their paper with the toughest question first. It puts them under mental stress. This can cause a not-so-good impression over the examiner if the quality of the answer is not good.
Not just that, students also miss out on the time and realize later that they have very little time remaining for completing the rest of the paper. As the mind of the student is focused on the difficult question, he/she might find it tough to answer the easy questions.
Missing out crucial instructions
It is advisable to go through the whole question paper before you start writing. It gives you the crucial time for contemplating between difficult and easy questions. Students could also read significant instructions or notes provided. In case you missed those important instructions or notes, then you might end up answering much more questions than needed. It is better that you discuss with your online tutor how to manage your time during examinations.
Not answering all questions
Some of the students scan their question paper first and then start with the easier questions leaving the difficult ones to be answered later.
Though, they might get stuck with some other difficult questions, leaving them with no time for returning to the questions which are yet to be answered.
Unlock Your
Academic Potential
Get Started with Personalized Online Tutoring!
Latest Blogs
Toothpaste – Do You Know How They Work?
How online tutoring makes learning Physics more engaging?
Four Most common mistake students do during exams
How does online tutoring help students with learning disabilities?
How to track student's progress?
Top 4 Versions of Online Tutoring
We will support you in your academic endeavours
US Curriculum
Biology
Physics
Chemistry
General Science (Lower grades)
Math
Social Science
Sociology
Humanities
Economics
Environmental Studies
Political Science
Psychology
French
English
Spanish
Canadian Curriculum
Biology
Enviromnmental Studies
Political Science
Chemistry
Geography
Psychology
Computer Science
History
Science & Technology
Economics
Mathematics
Social Studies
English
Physics
Sociology
International Baccalaureate (IB)
IB DP
Biology
Business & Management
Chemistry
Computer Science
Design & Technology
Economics
Geography
History
Language & Literature
Mathematics
Physics
Psychology
Visual Art
IB MYP
Biology
Chemistry
Earth Sciences
Environmental Sciences
Individuals & Societies
Language & Literature
Life Sciences
Mathematics
Physics
Visual Art
IB PYP
Languages
Mathematics
Science & Technology
Social Studies
CBSE/ICSE/ISC
Accountancy
Biology
Business Studies
Chemistry
Computer Science
Economics
English
Environmental Studies
General Science (Lower Grades)
Geography
Hindi
Malayalam
Mathematics
Physics
Political Science
Psychology
Sanskrit
Social Studies
Sociology
Australian Curriculum
English
Math
Science
Physics
Chemistry
Biology
Geography
Computer/IT Courses
C++
Java
Graphic Design
Web Development
Game Development
Mobile App Development
GCSE/GCE A
Art & Design
Biology (Single Science)
Business
Chemistry (Single Science)
Combined Science
Computer Science
Design & Technology
Economics
English
Geography
History
ICT
Language & Literature
Maths
Physics (Single Science)
Psychology
Sociology
SABIS
Test Preparation
SAT Level 1
SAT Level 2
ISAT
KCET
KEAM
ACT
IELTS
AP Test Prep
PSAT
NJ ASK
NEET
NEET MDS
JEE
TerraNova
TOEFL
NAPLAN
IGCSE/AS/A Levels – CIE & Edexcel
Mathematics
English
Physics
Chemistry
Biology
Art & Design
Computer Science
Design & Technology
Economics
Language & Literature
Environmental Management
Food & Nutrition
Geography
History
ICT
General Science
Sociology
Travel & Tourism
Accounting
Business Studies
Language Training
English
Spanish
German
Italian
Arabic
Sanskrit
French
Hindi
About Us
Curriculum
FAQ
Blog
Careers
Privacy Policy
Contact Us
Become a Tutor
Copyright © 2023-2024 TutorComp.
All Rights Reserved